News archive
Cyber Connection Double Header Tournament Standings
Posted by JohnBoy - Monday, July 28 2008
Well after about 5 months in the Cyber Connection Tournament, the standings are as follows :

*AUS* Titans in 1st place with 2950 points
*AUS* Wolfpack in 2nd place with 2875 points
Xtreme in 3rd place with 2075 points
CSF in 4th place with 1425 points

Now the Finals begin. Titans have a week off while Wolfpack and Xtreme play the Semi Final to determine who will play the *AUS* Titans in the Grand Final.

The next 2 weeks will see 2 very hard matches played to Determine the Cyber Connection Double header Tournament Winner.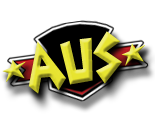 Titans Vs Wolfpack Results
Posted by JohnBoy - Monday, July 14 2008
Well Titans and Wolfpack faced off again last night. This was one fierce intense match. Wolfpack were able to secure the first map, the second ended a draw, the third the Titans won and the fourth map saw the Wolfpack come back from a strong Titan lead to win it.

The final score was Wolfpack 2 maps and Titans 1 map with one map a draw.

Titans still remain in first place with one match remaining and the Wolfpack in second spot.

Great Games.