News archive
Good Luck to our CO
Posted by Xena - Tuesday, November 18 2008
JB has deployed to Timor recently and as a squad we all wish him well and pray he is safely returned to us. JB has been a member of *AUS* for almost 8 years and has been CO of the squad for almost 7 years. Although his presence will still be with us in the forum, he will no longer be able to participate in tournaments and as team mates we will all miss his leadership and friendship.

As a testimony to his enthusiasm and dedication, JB played in his 200th BHD match for *AUS* in the final round of the Cyberconn Search and Destroy tournament. *AUS* finished the tournament with Wolfpack and Titans coming in first and second.

Congratulations to both teams for their effort in the tournament and also congratulations to DC who came in a close third place.

Thank you for your time and effort in building such a great squad JB and take care of yourself in Timor. We all wish you the best of luck.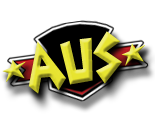 Merlin Hits 5 Years
Posted by JohnBoy - Tuesday, November 4 2008
On the 29 Oct 08, Merlin completed 5 years service with the mighty *AUS* squad.

Merlin's name now appears in the *AUS* Hall of Fame and is a Life Member of *AUS*.

Congratulations Merlin.