World At War : The Pacific Campaign is meant to give the Land Warrior player an almost accurate recreation of the battles of World War II. It is based on the American vs. Japan battles in the Pacific. It begins as America enters the war (Pearl Harbour). You take the role of a Marine and fight at many of the major Pacific battles (Guadalcanal, Iwo Jima, etc.). You can use weapons from both sides including the American M1E7, Springfield M1903, Thompson M1A1, the Japanese 99 short rifle and many more.
Weapons Available:
American Thompson M1A1
American Colt 1911A1
American M1 Garand Rifle
American M2 Carbine
American M1903A3 Springfield
American Browning Automatic Rifle
Japanese Type 99 Short Rifle
Japanese Type "I" Rifle
Produced by DF Mod Central
(http://www.sniper-shot.net/dfmods/) (site now closed). This download is rare to find and is not being hosted by any large DF Resource site.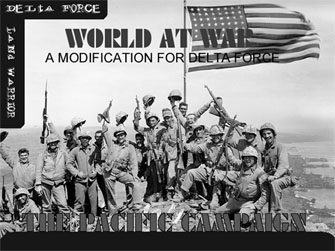 Maps:
Pearl Harbour, Guadalcanal, Iwo Jima, Okinawa
Each Campaign contains 3 maps each (if I remember correctly). Overall it can be seen the maps haven't had too much effort put into them - they are fairly dull. The exception to the rule are the Guadalcanal maps, created by Camouflage and JudgeDread of *AUS*. They have created some of the best S/P maps seen! 3 screenshots from this campaign appear below. The use of AI and custom built objects make you feel you're really there. They outshine the other campaigns 3 fold.

Team:
=BSS=Parker - Pearl Harbour terrain, Okinawa terrain, Weapon Specs, Pearl Harbor missions, Iwo Jima missions, Okinawa missions, Marine skins, Japanese skins, HUD design, Web site design, Public Relations.

Duckman562 - Weapon images, Graphic User Interface design, head researcher for historical correctness, brainstormer

Camouflage *AUS*- Guadalcanal missions

JudgeDread *AUS*- Guadalcanal missions

This was one of the 1st mods for LW (so its pretty dated now), but is pretty enjoyable overall. The weapon specs aren't perfect, but who cares?? The author notes this and it is mainly because of problems with the game. The characters skins look awesome - great stuff Parker! The only really disappointing thing about the mod is that the weapons skins don't work in 3rd player view and the quality of the maps, already mentioned.